Healthy Soup Recipes
Protein-Packed Chicken Bone Broth Recipe (Keto-Approved)
If you're on a ketogenic diet, you need to avoid carbs at all costs. Eating carbohydrate while in ketosis reverts your body to a state of glycogenesis, leaving you feeling bloated and lethargic. This bone broth recipe is carb-free and contains nothing but the goodness of protein and healthy fats, perfect for anyone on a keto diet.
One of the reasons why people use a keto diet is to reduce the inflammation associated with consuming refined carbs. Refined carbohydrates such as sugar and flour inflame the cell walls of the gastrointestinal tract. This inflammation increases the permeability of the intestinal wall, leading to a condition known as "leaky gut."
Nutritious, Keto-Approved, Chicken Bone Broth
Consuming bone broth every morning has restorative properties for healing the gastrointestinal system. The collagen and amino acids found in every cup of bone broth help to relieve inflammation of the intestinal wall and reduce the symptoms of leaky gut. If left untreated, a leaky gut will result in the development of other autoimmune diseases. (1)
Keto diets have tremendous health benefits for anyone living with a leaky gut or suffering from the effects of an inflammatory disease. By eating nothing but protein and fats, you remove the inflammatory component from your diet, enhancing the health of gastrointestinal bacteria, known as gut biomes. (2)
Traditional bone broth recipes call for beef bones, but you can use chicken as well for the same nutritional effect and benefits. To start this recipe, take a 3 to 4-pound chicken, roast it and strip it of the meat. Place the carcass in a slow cooker along with a splash of ACV, two peeled onions, some garlic, two carrots, celery stalks, a bay leaf, peppercorns and a few sprigs of thyme.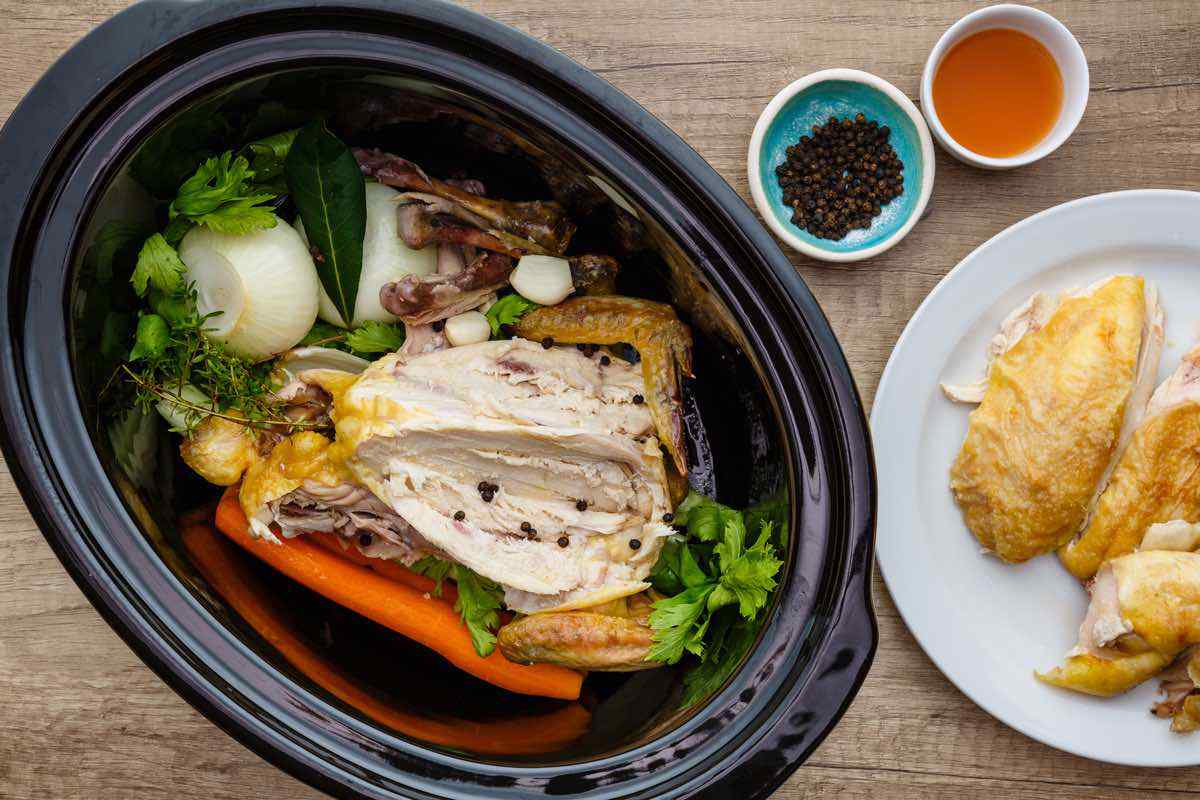 Bring the broth to a boil, turn down the heat and let the broth simmer for at least 24-hours. Chicken broth smells delicious while it's cooking, so make sure you have plenty of keto-approved snacks on hand to calm down the munchies while the rich aroma of chicken broth wanders through your home.
The best part about making a batch of chicken bone broth is the fact that you can walk away and leave it to cook, freeing your time for other activities. The prep is easy and its ready for the pot in minutes, you don't even need to slice the veggies.
You'll know the broth is ready when the bones fall apart and break down. Your veggies will be a near mush and may have disintegrated entirely by the time the broth is ready. Remove it from the heat and let it cool off for a few minutes. Take the mixture and strain it through cheesecloth before discarding the remaining bones and veggies.
After straining, you'll have a clear broth that you can pack into jars or containers and store in the fridge. A batch of protein-packed chicken bone broth will keep in the refrigerator for up to five days. Add your broth as stock for other dishes or try it out for breakfast in the morning, it makes for the ideal start to your day, especially if it's cold outside.
Print Recipe
Protein-Packed Chicken Bone Broth Recipe (Keto-Approved)
Scale
1 (3-4 pounds) roasted chicken 
2 onions, peeled 
2 celery stalks
2 medium carrots
2 garlic cloves, peeled 
1 bay leaf 
fresh thyme sprigs
1 tsp black peppercorns
8 cups cold water
2 tbsp apple cider vinegar
Remove the chicken meat from the bones. 

Place the chicken bones and the rest of ingredients in a slow cooker. 

Cover with a lid and cook on LOW for 24 hours. 

Let cool slightly.

Strain using a fine metal strainer. 

Transfer the chicken bone broth into an airtight containers or jars and refrigerate promptly.

Store in the fridge for up to 5 days, or freeze for later use.
P.S. Did you enjoy this recipe? Leave us a comment with your thoughts. If chicken isn't your thing, check out our beef bone broth recipe.
More Bone Broth Recipes and Soups to Try:
Metabolism-Boosting Beef Bone Broth
Zoodle Bone Broth Chicken Noodle Soup
Bone Broth Butternut Squash Soup
Bone Broth Soup for Arthritis and Joint Pain
Probiotic-Rich Creamy Chicken Bone Broth Soup
Collagen-Rich Instant Pot Bone Broth